Have you ever been highly annoyed by your husband, boyfriend, or other men in your life? Or maybe you were the perpetrator who accidentally upset a woman (or multiple women)? Whichever side you land on, it might be good to know that you're not alone. And there's more good news: we've gathered plenty of first-hand examples of the most irritating things that have happened, from dating blunders and parenting mishaps to significant others saying the wrong thing at the wrong time, and they are so relatable you won't stop laughing!
"You Know, Childbirth Isn't Really All That Painful"
The last person to be an expert in childbirth would be this man, who explained to a woman that giving birth was no different than pooping. This guy must have zero knowledge when it comes to simple biology since he clearly doesn't know which end babies come out of, and that's just a little bit concerning. We can imagine the look on this woman's face as he tried to prove his point.
How giving birth actually feels is obviously not something a biological male would ever experience; therefore, his opinion is entirely invalid. It's also slightly offensive in the eyes of women who have actually gone through it.
He'll Be Showing Her Where to Sign the Divorce Papers Next
Often, people tend to tell others how to do things as if their way is the right way. This husband completely forgot the fact that his wife was actually a professional lawyer when he told her where to sign a contract. The thought might have slipped through his head, and he was probably just trying to give a kind word of advice, but that advice was simply an epic and total failure. Hopefully, they both had a laugh after that one.
It's kind of ironic that this woman has spent countless years at one of the top law schools ever, only to be instructed by her future husband regarding how exactly to sign a contract.
What People Expect Women to Dress Like if They Don't Want Attention
One of the most annoying things a person could do is to tell another how they should dress; saying that a woman won't get harassed if she dresses accordingly is even worse. There is never a good enough reason for someone to dictate how another person should be dressing; usually, clothing doesn't have much to do with harassment in the first place. It's a very hypocritical statement.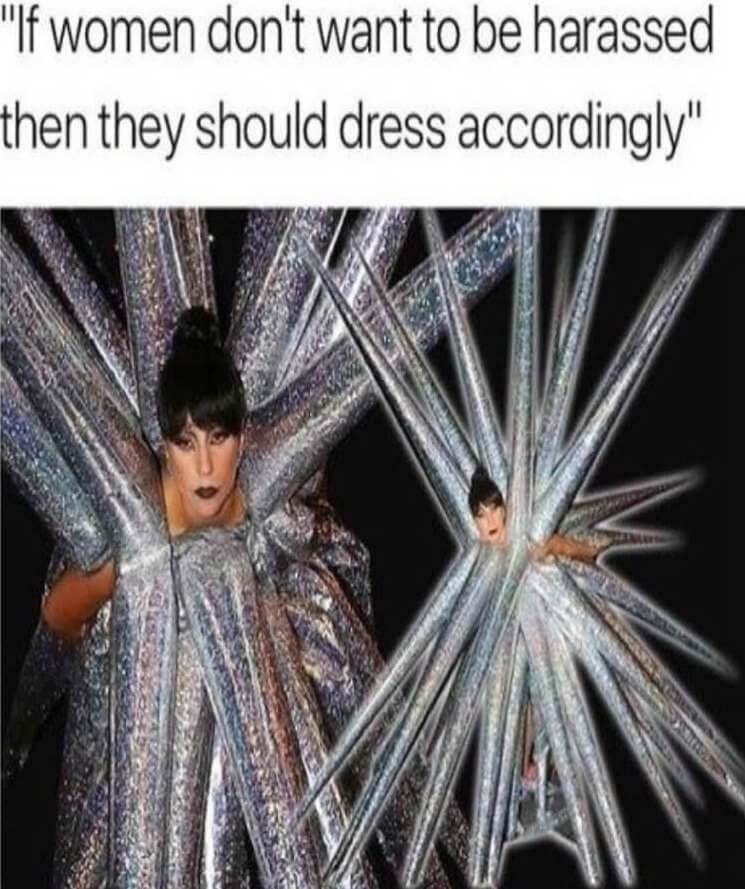 This picture is of Lady Gaga, a modern-day pop and fashion icon, wearing a spikey and outrageous outfit that would surely keep all of the judgmental people far, far away.
In the Latest Edition of Comparing Women to Objects...
For some reason, some people believe that working out and getting fit isn't something women can do. It's pretty much an ancient way of thinking that doesn't really apply to our modern time. Women are always criticized for their looks, especially if a person believes she's overweight, but apparently, that also goes for women who are really fit. Regardless of appearance, it seems like there will always be someone out there who is ready to judge.
If this is truly how this person feels about women and their roles, he should just go ahead and marry a robot. It's the only way for him to get what he wants.
Real Men Aren't Afraid to Burn Their Tongues
Going out in public basically means that we are subjected to all of the interesting conversations that people around us might be having. This person posted one of those moments on Twitter, which was pretty ridiculous. Apparently, they were at a coffee shop, and the person in front of them commented on how iced coffee is only for women. Obviously, this isn't true. Putting ice inside of coffee isn't only for women.
The amount of insecurity this guy felt was evidently high and seemed to shine through when he was ordering his coffee at the coffee shop.
Because Women Should Drive With an Empty Gas Tank
According to this picture, the only way you can fail as a husband is if your wife touches a lawnmower, the trash can, a grill, or goes to fill up gas on her own. To us ordinary people, these are just standard and daily tasks that women can do just as well as men. This is basically one of the most absurd concepts, and we honestly think that most people don't actually feel this way.
For an unexplainable reason, some people are out there dividing chores based on gender. This concept is something that might have been acceptable in the 1950s but not today.
They Only Offer Military Discounts for Men
Discounts are one of the greater parts of shopping, and anyone who served their country is typically entitled to a military discount at checkout. A woman was shopping for athletic clothes at Fabletics and decided to chat with support to make sure that hers was valid. They quickly responded to her to let the woman know that this only applies to veterans who are male, and she wouldn't be entitled to it.
According to Fabletics, military discounts are only valid and given to customers if they're men. This concept makes absolutely no sense and would probably anger every male and female veteran.
He Mispronounced "you're Right"
Sometimes, pride can get the best of you when you're talking about something you're good at. Believe it or not, it is totally okay to be wrong in something. We can't all be experts in everything all of the time. This is advice that this guy sure didn't take as he was debating about electricity with a woman. Whatever he said ended up being wrong, but he was way too proud to admit it.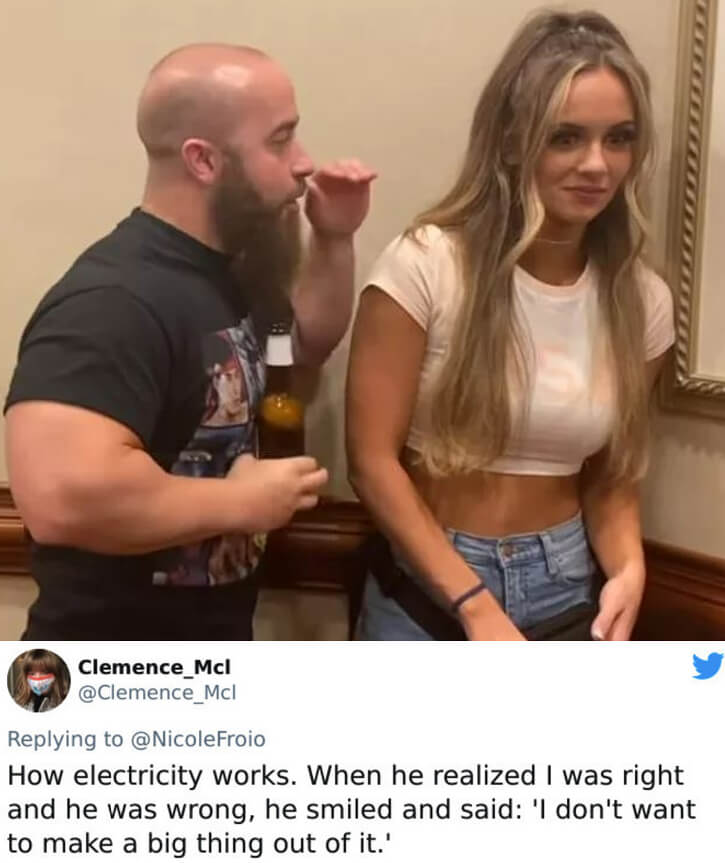 Sometimes, pride can take you to places where you don't really need to be, for example, on the brink of an argument with a woman who also knows a ton about electricity.
What Would She Know About Her Own Face?
This girl has practically lived her whole life with her birthmark on her face, so she knew exactly where it came from and what it was. One time, she encountered a guy who was sure that she was completely wrong about her very own birthmark, who then proceeded to explain to her what he believed it really was. Of course, he was wrong, and she was probably just shaking her head in disapproval the whole time.
This was her birthmark. On her face. Yet he still somehow was confident in the fact that he knew the origins of this mark were, in fact, actually a scar.
Breaking News: Roads and Bridges Are Only for Women
This is just another case of someone saying something absolutely ridiculous. Hopefully, his wife found out about this statement and gave him a fine lecture after he publicly embarrassed himself. Honestly, at this point, we're not even that surprised that this is something a public official would confidently utter. This guy might be shocked to find out that men do, in fact, commonly go shopping and use roads and bridges.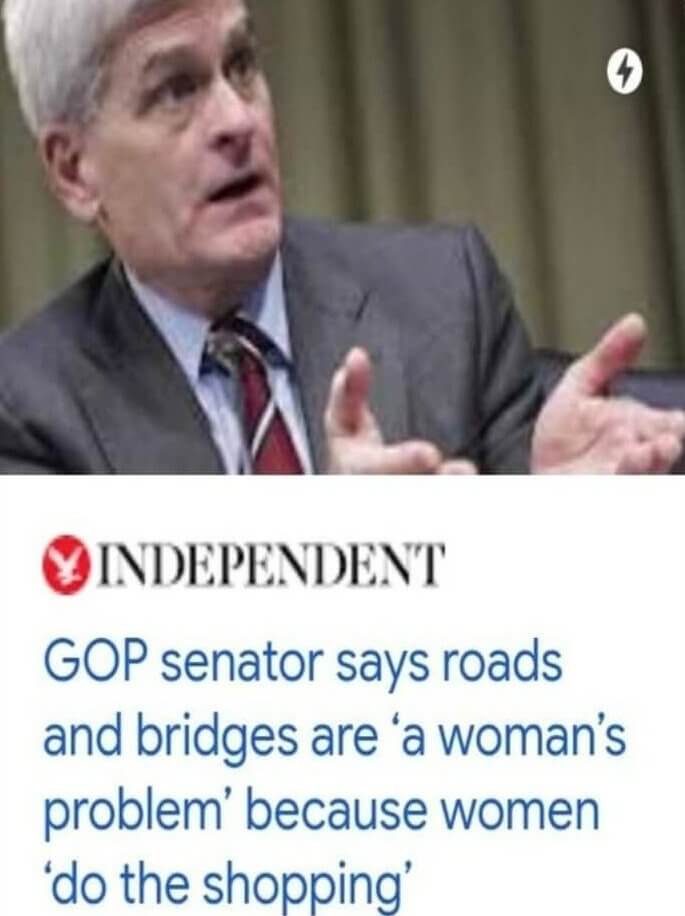 There's absolutely no logic behind this purely senseless statement made by a ruling official.
That Time a Man Told a Competitive Powerlifter How to Squat
The original poster here was at the gym, and was preparing to get some squats done when a man walked up to her and asked if he could spot her. She declined the help, and as she got started, he began to explain to her exactly how squatting works, as if she didn't already know. He just automatically assumed that her knowledge of exercise was minimal in comparison to him. "I politely declined, but he did not get the hint," she recalled. "I finally had to interject and let him know that I was a personal trainer, a competitive powerlifter, and had a national-level powerlifting coach."
A gym is basically a place where everyone thinks that their own knowledge of exercise is better than the person next to them, regardless of whether or not that's actually true.
Can We Save the Mansplaining for After the Anaphylactic Shock?
Anyone explaining your own food allergy to you can be frustrating, but them doing that when you're basically on the verge of death just makes everything worse. This girl was a customer at a restaurant and went into anaphylactic shock after eating a dish that had nuts in it. It was because there were pecans in the dish, but the manager was trying to explain to her that it was because of pine nuts. She's not even allergic to pine nuts.
If there were a time and place to explain your opinion on nuts, it wouldn't be when a customer is in the middle of a severe allergic reaction from the dish your chef just made.
"I Don't Have Many Friends Because That's a Girl Thing"
Is this guy's reason for having no friends super strange and kind of rude? Yeah. Do we also kind of feel bad for him, though? A bit. The fact that he said this on a radio show as a host and to the public is a bit weird and, honestly, kind of risky. Surely, he has a bunch of female listeners who were completely confused by his super strange comment. Maybe he woke up on the wrong side of the bed that day.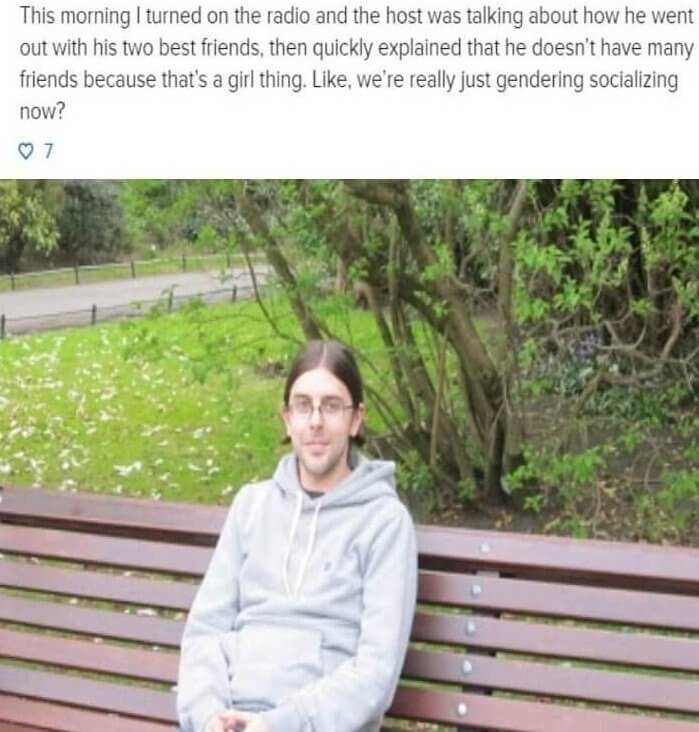 Well, we're just going to assume that he used the assumption of "having friends is a girl thing" as an excuse and less of an explanation for the fact that he has no friends at all.
Some Unwarranted Advice
When this professional guitarist eventually showed up with her instrument, a guy wanted to tune it for her and even explained exactly how to do it. He was definitely just trying to be kind while offering up his best advice but didn't know that she was actually there to perform. Either that, or he thought that he was better than her, but we like to see the best in people.
Like everything else, being able to play an instrument requires pure talent and lots of hard work. So, of course, she knew what she was doing. He didn't seem to think so.
Honestly, This One Is Fine by Us
This is a classic case of a public official voicing his unprofessional opinion on women. We would recommend he think a bit longer before speaking, but it's likely that he thought long and hard about this statement and even shared it with the public with confidence. Surely, his public relations team also felt really great about this recommendation. Seriously, many have no filter when it comes to creating some kind of unnecessary gender difference.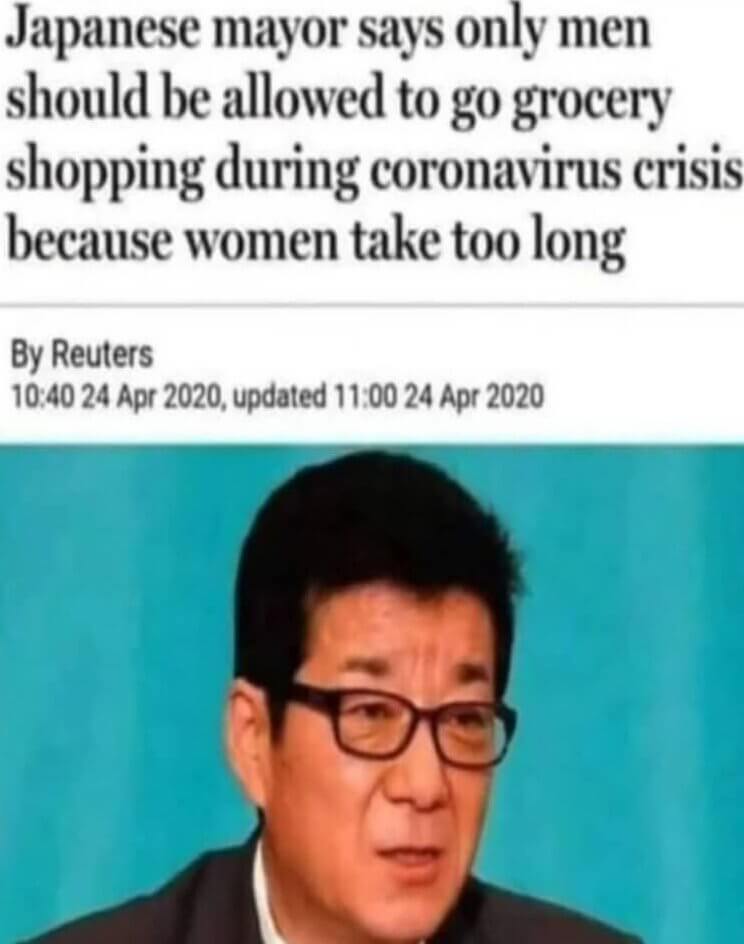 This statement is certainly something only a man would say as if men aren't just as at risk of contracting Covid as their female counterparts. Also, if anything, men probably spend way more time in the supermarket.
What Male Advertisers Think Women Want to See
This bathtub is undoubtedly a unique one and was clearly made in order to keep men and women separate. We're making that inference based on one side having bright pink lights and the other blue - because girls like pink and boys like blue (yes, that was sarcasm). One of the best parts of owning a bathtub is relaxing with your partner after a long day, so this kind of defeats the purpose in the first place. Everything about this creation is annoying.
This bathtub was either created for great convenience or simply for religious purposes to separate men and women. Either way, their marketing team needs an upgrade.
Beause Moms Only Really Love Their Sons, Not Their Daughters
Nowadays, founding out the gender of your baby is super easy, and people do it all the time. There are some who want to know right away; others want to wait a while until their child is born. Most theories and myths that have to do with an unborn baby's gender usually come from a time when technology wasn't so advanced. Of all the myths out there, this one is probably one of the stranger ones.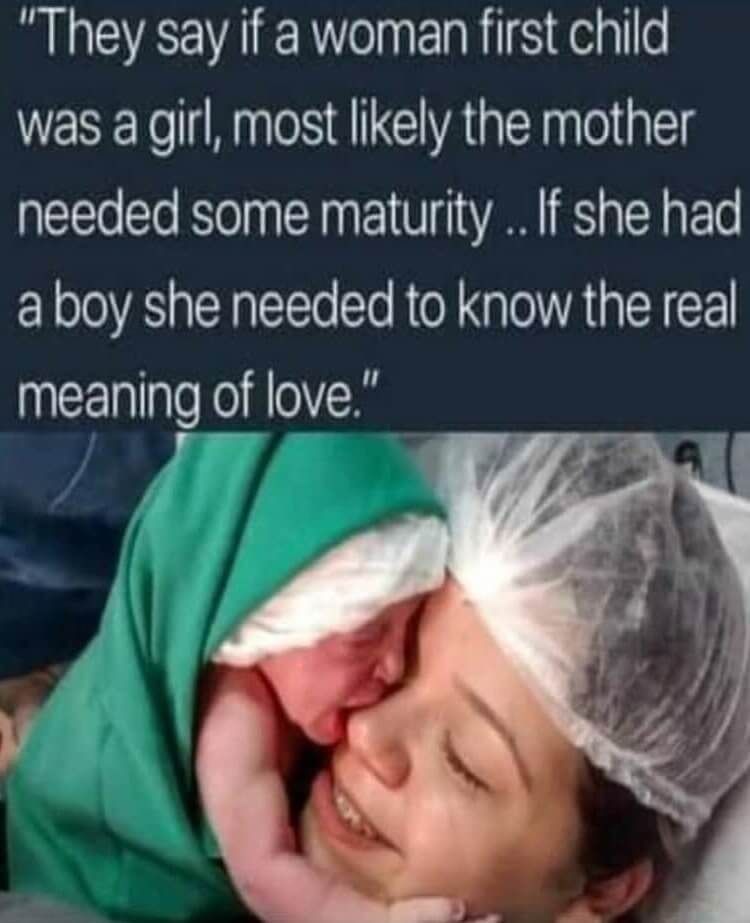 There are all types of theories and myths when it comes to babies and giving birth. Some of them are weird, but this one just literally makes a minimal amount of sense.
Grandma Knew Just How to Shut Him up
This grandpa suddenly thought that he was a cooking expert after he stopped working; of course, his wife just didn't agree. He probably simply wanted to do his part around the house now that he's got some time on his hands, but he barely even knew how to make eggs. Therefore, he probably shouldn't have started to tell his wife which pans she should be cooking with for certain dishes. We can imagine her anger.
Surely, this grandma acknowledged that her husband had absolutely no role in the kitchen for decades and that he shouldn't start after retirement. Fairly, we kind of agree with her on that.
We Can Hear Someone Saying, "Women's Ears Are Different"
Tons of things in our society are divided by gender, but music certainly shouldn't be one of them. According to this chart, a company designed their headphones with a "punchy bass" specifically for men. Not only that, but the "treble formulated for women" headphones also only comes in the color pink. Believe it or not, some men like pink and most women love bass, so this headphone company has gone above and beyond to reinforce ridiculous stereotypes.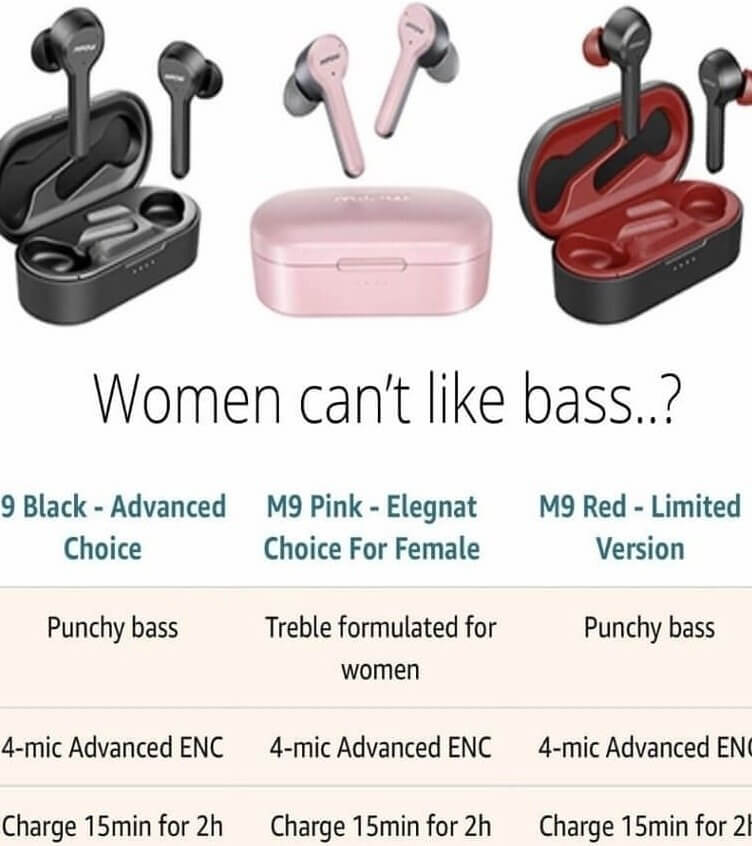 It would be safe to assume that the inventors of these headphones weren't women and had absolutely no idea that women do, in fact, enjoy listening to quality music.
Another Person Who Thinks They Can Mansplain Birth
Once upon a time, a man spoke to a woman and once told her exactly how much pain a girl experiences when giving birth. That same woman miraculously survived her bout of anger and lived to tell the story. She also happened to have once delivered two nine-pound babies and surely knew exactly how to describe the experience. She even did it without an epidural and made it through the pain. "I once had a man break down exactly how much pain women feel during childbirth after I told him I had delivered two nine-pound babies without an epidural. Like, sir, I did not stress test my taint just to have an illiterate argue with me about it."
Another perfect way to frustrate a woman (who is also a mother) is to tell her that you surely know how painful childbirth is and that her experience is irrelevant.
Something Tells Us There Were No Women on the Design Team
This company took simple bathroom doors to unnecessary extremes. One of the worst things anyone can do, regardless of gender, is comment on a woman's weight or just point it out in general. Truthfully, whatever is written on the doors barely makes any sense when you think about it because men aren't the only ones who enjoy doing cool things. Maybe this was some kind of potential joke that simply turned into a disaster.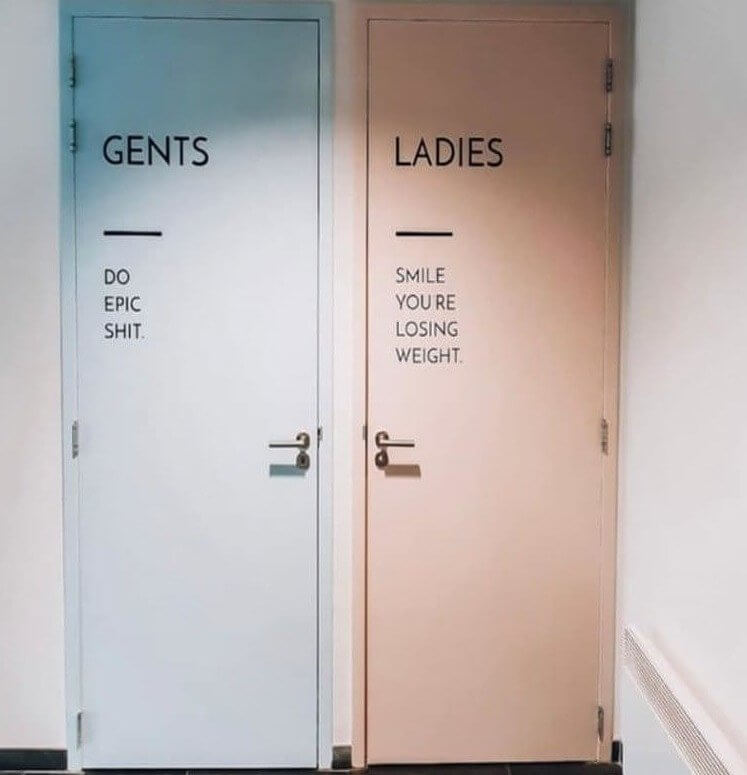 This might be one of the worst quotes to ever exist on a bathroom door. "Ladies: smile, you're losing weight."
Believe It or Not, Not All Women Are Jealous of Each Other
A classic 2000s movie scene is when a woman goes to a party in an extravagant outfit, only to run into her worst enemy, who is wearing the same exact things. It's a moment that we all know and love, but only when it's on the television screen. In real life, it happens, but most women would prefer it if it didn't. Surely, it's not as intense as those movies.
Women love to match clothes with their friends, while guys often tend to do it accidentally. Both are better than copying someone's outfit on purpose and without them knowing it.
Just Throw the Whole Husband Out
That last comment where someone just recommended that this wife should just throw her whole husband out might be the definition of comedic gold. The amount of willpower and kindness that this woman had in order to cook two separate Easter meals for her husband is incredible. Especially because he straight up said that the first meal she made was way too girly. How can food be feminine? It doesn't make any sense.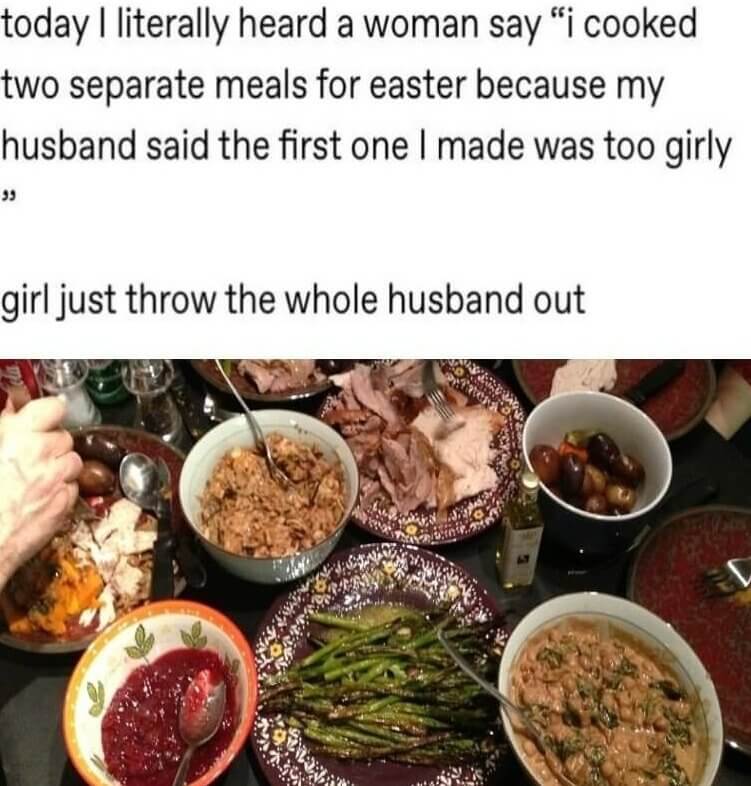 Let's start with the fact that we don't actually understand the concept of what a girly meal is. If you do, please try explaining it to us, if an explanation is even possible.
"girls Aren't Funny"
There's no denying that the photoshop skills of whoever made this picture are impeccable. Although, assuming that only women want to make themselves look prettier will surely annoy any female in your local area. This is simply because lots of people know how to edit nowadays, and the range of skills definitely varies from person to person, regardless of whether they're male or female. Making things like this is seriously super fun for literally everyone.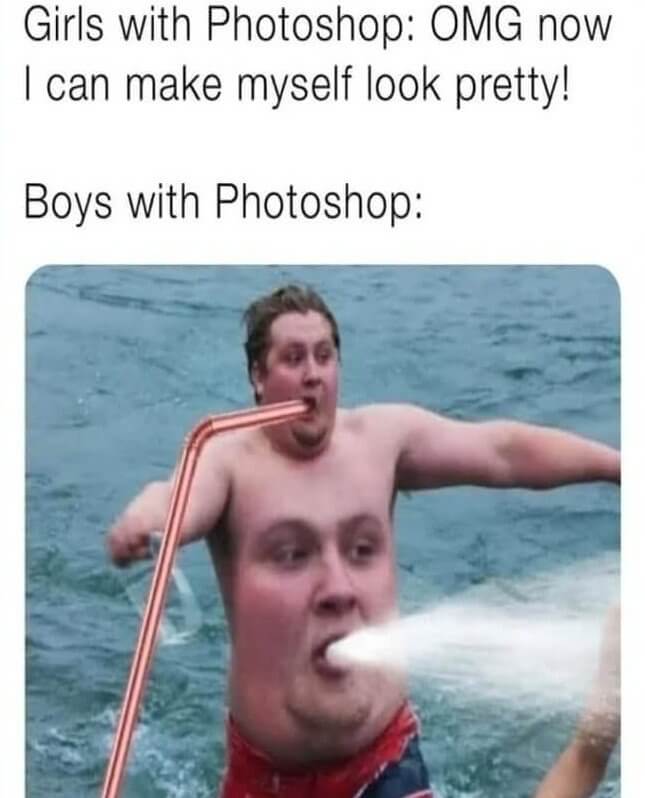 This post is actually pretty comedic, but the basic generalization that only some people who are able to use Photoshop only edit to make themselves look good isn't as funny as the picture.
Someone Get This Guy a Dictionary
Let's face it, a 1950s mentality just doesn't fly today, and sharing that mentality with whoever you're speaking with probably isn't the best idea. This text conversation turned out to be a massive miscommunication that simply makes no sense. The woman wrote in her biography that her job was in finance, and the other person obviously read that completely wrong. It was so funny and extremely rude at the same time.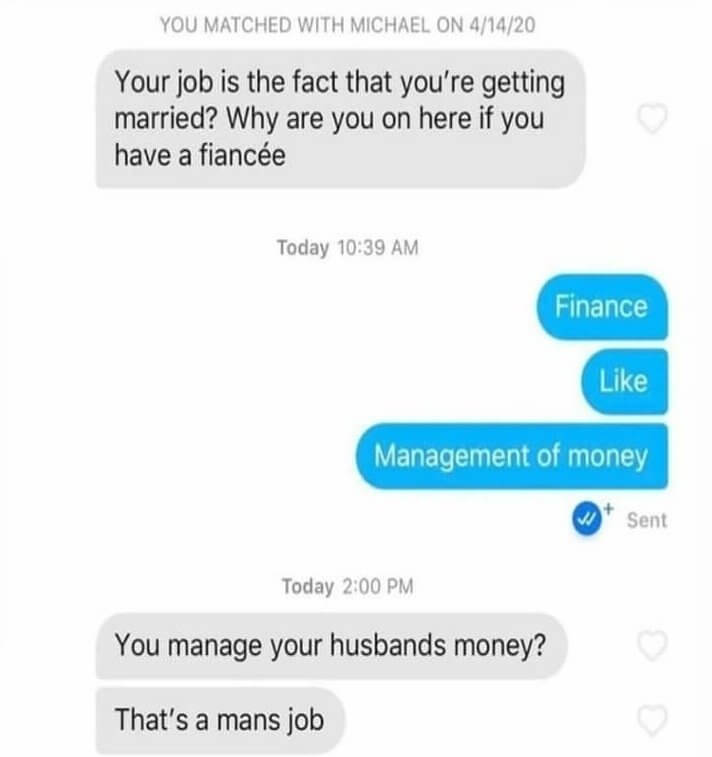 This man didn't even slightly think before speaking and certainly failed to read the actual messages properly before doing any of the above things we just mentioned.
Is the Men's NBA Playing Tonight?
It's so common for people to add the word "female" in front of a job description when the professional is a woman, but when it's a man, that detail is never really pointed out. Clearly, this poster was super annoyed with this trend and decided to speak up about it while coming up with a very combative idea. The more you think about it, the quicker you realize how unnecessary it is to point out the gender when referring to a career.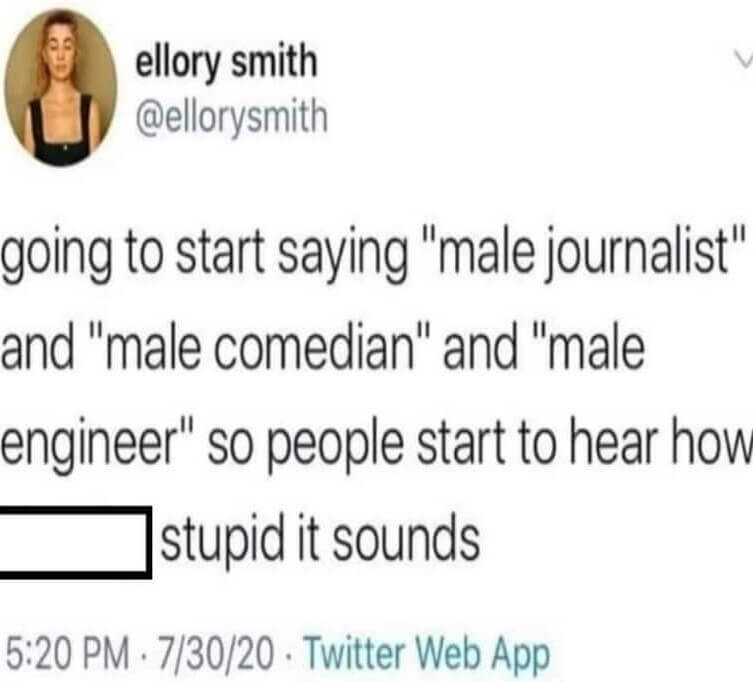 This post has some kind of passive aggressiveness that we are totally here for. She barely had to point out the issue in order for us to understand exactly what was wrong.
She Meant the Other Mariah Carey
Marie Curie was a very famous female scientist and is somebody you learn about in grade school. Well, at least that's the case for most people. A man overheard this woman say that she is distantly related to her and proceeded to correct her by saying that it's pronounced "Mariah Carey." Let's hope that he was just joking because, if not, we don't really know what to think at all.
We like the fact that the retweeter of this tweet fully owned up to mansplaining and even said that most men won't admit that they are doing it at all.
When He Respects a Man He Doesn't Know More Than He Respects You
There is always that one person who is determined to win a love interest over, even if that person rejected them ten times over. Some just don't feel the need to give up, and being honest to them by simply explaining that you're not interested isn't really enough at times. This is why many women have to say that they're already in a relationship, regardless of whether it's true, to get someone to stop bothering them.
There is no statement truer than this post; telling someone that you have a boyfriend will get them to leave you alone faster than anything else.
A First Date That Filters Out All of the Trash
The woman who made this post learned how to play Chess at just five years old. Ever since then, she has found that many people have doubted her knowledge of the game, especially when she's on a date. Time and time again, they try to explain the rules to her as if she doesn't know. Even after she explains that she certainly knows how to play it, they never believe her.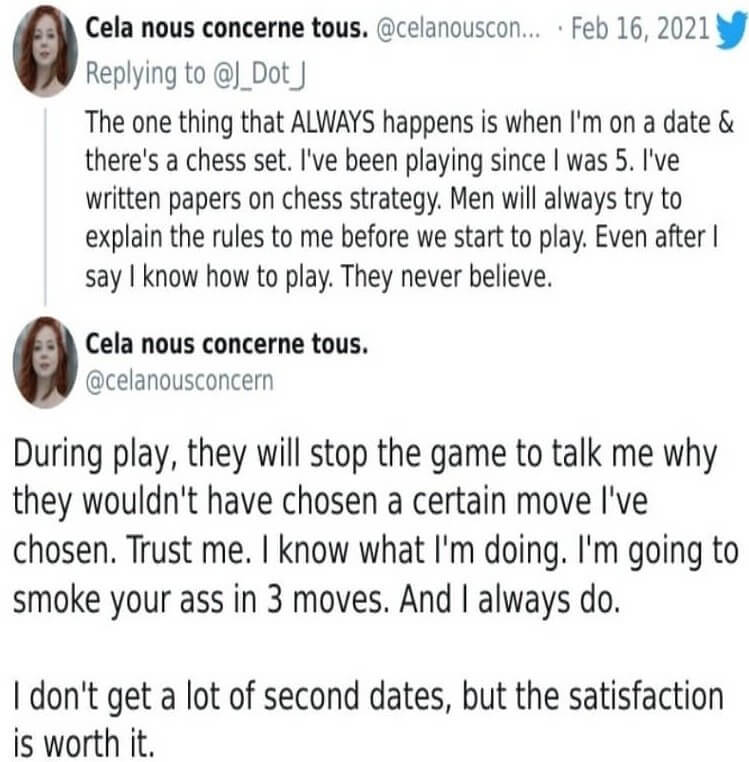 At least the trash takes itself out before the second date.
"Men's Shampoo Turns Women to Stone"
Advertising and marketing are basically their own world, and some companies tend to target one gender or the other. Regardless, razors are razors, and there is seriously no difference in those that are marketing to men or women. This person clearly doesn't know this and believes that since the two are biologically different, shaving razors must be used accordingly. It's a strange statement that seriously has minimal logic behind it.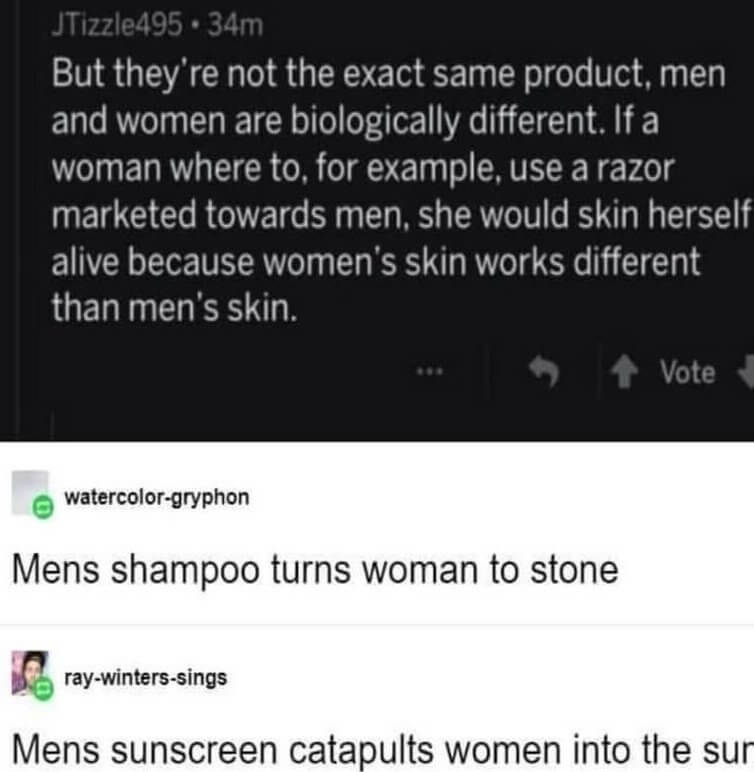 We would like to hope that this person was completely joking and doesn't actually think that male and female skin is biologically different when it comes to choosing the right razor.
We're Getting Mixed Messages
So, this had to have been some kind of joke when the original poster decided to share this statement on the internet, at least, we hope so. According to him, "Whoa" is masculine, and "Wow" is feminine. It doesn't make much sense, and this comment would surely annoy any woman just as it has evidently frustrated the man that called him out. It's so ridiculous that it almost makes you want to laugh.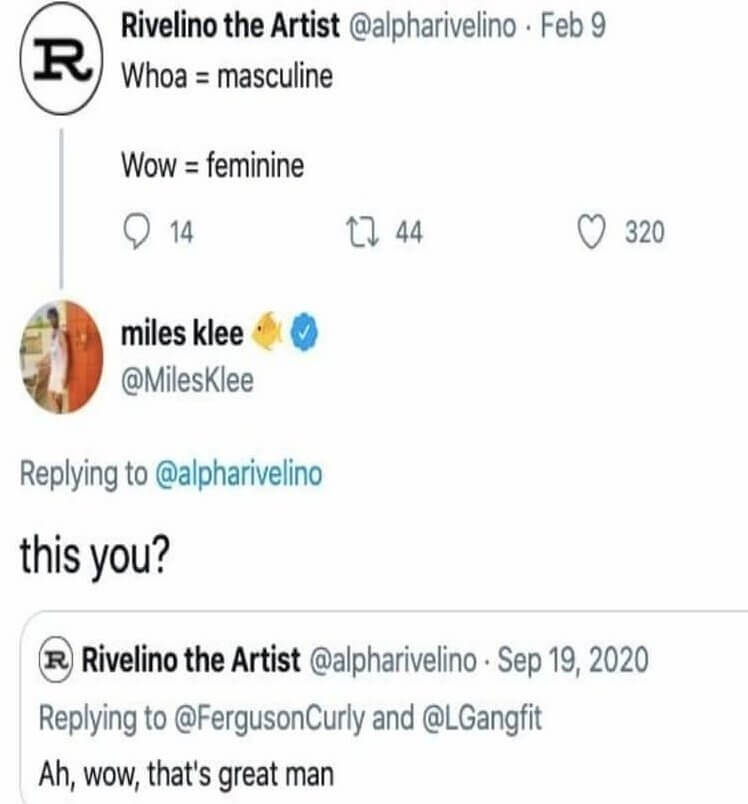 This man called out the original poster of this statement in such an epic way.
Truly the Stuff of Horror Movies
Nowadays, women in the workplace are just as successful as men, if not even more. Sure, there is still some kind of gender inequality when it comes to salary, but women have really worked hard to overcome this boundary. Clearly, there are some people out there on the internet who need to share the fact that they are highly insecure when their girlfriend or wife makes more money than them.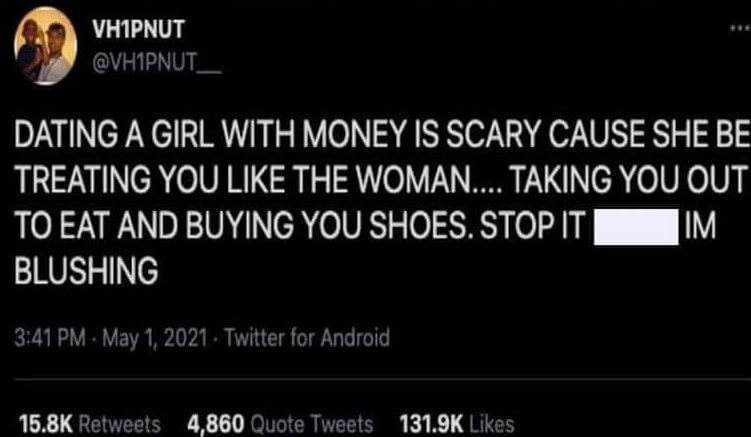 We can confidently say the belief that men should be the only ones making money as the women stay home and tend to the house is archaic. Things have seriously changed in the last few decades.
Oh, and Girls' Bathroom Business Always Smells Like Roses
Some restaurants want to add little things here and there to stand out while also pleasing their customers. Well, this design is far from pleasing, and that goes for both men and women. Hopefully, this weird bathroom addition was due to some kind of language barrier in which the installer simply didn't pay attention to the words. Regardless, the truth is that not all men love football, and some women hate shopping.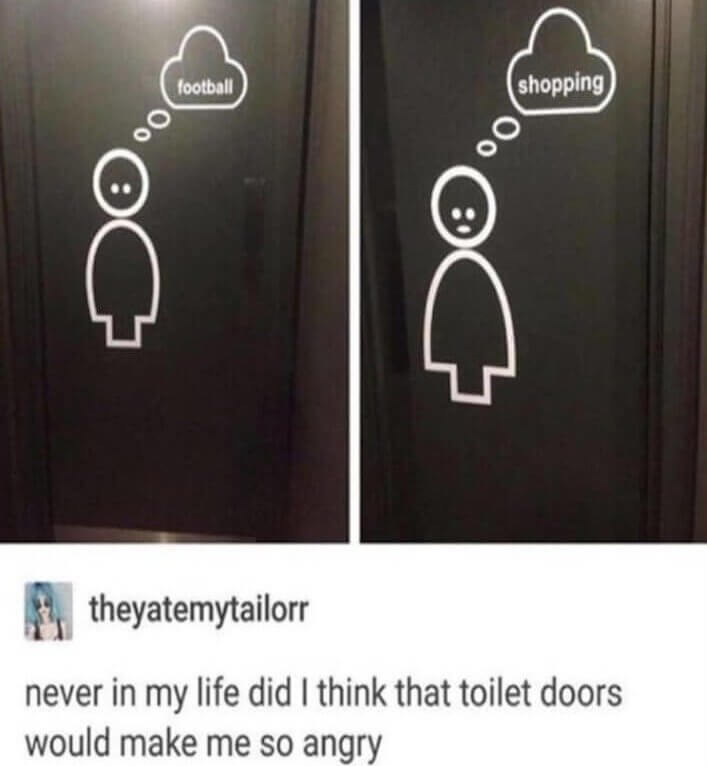 Men would likely pass by these bathroom stalls without thinking twice, while most women would probably be pretty made about these weird stereotypes when simply going to use the toilet.
He's Definitely Going to the Gay Bar and Doesn't Know It
At work, one person was told that cafés are solely for women while bars are just for men. Well, this guy was confused about this comment until someone else pointed out that if the bars he goes to only have men, they're likely gay bars. The funny part in that is that he probably had no idea, which might be why he's never seen any other women at the bars.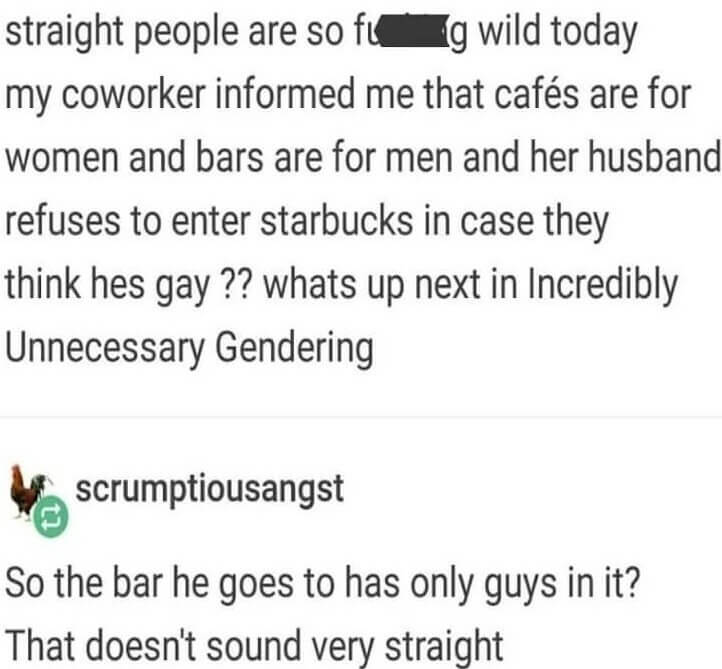 Let's make one thing clear, whatever came out of this coworker's mouth is pure nonsense and definitely isn't true in any society or on any planet. Things don't work like that.
When You Find Out Your Husband Can, Indeed, Cook for Himself
It seems like this person is saying that his wife typically makes the meals and tends to make ones that are on the healthy side. Well, she wasn't around, so he made himself the most unhealthy meal that he could think of. We're not going to lie, the butter might be a bit much, but everything on this plate does look delicious. So, good for him. There's no doubt that he enjoyed this.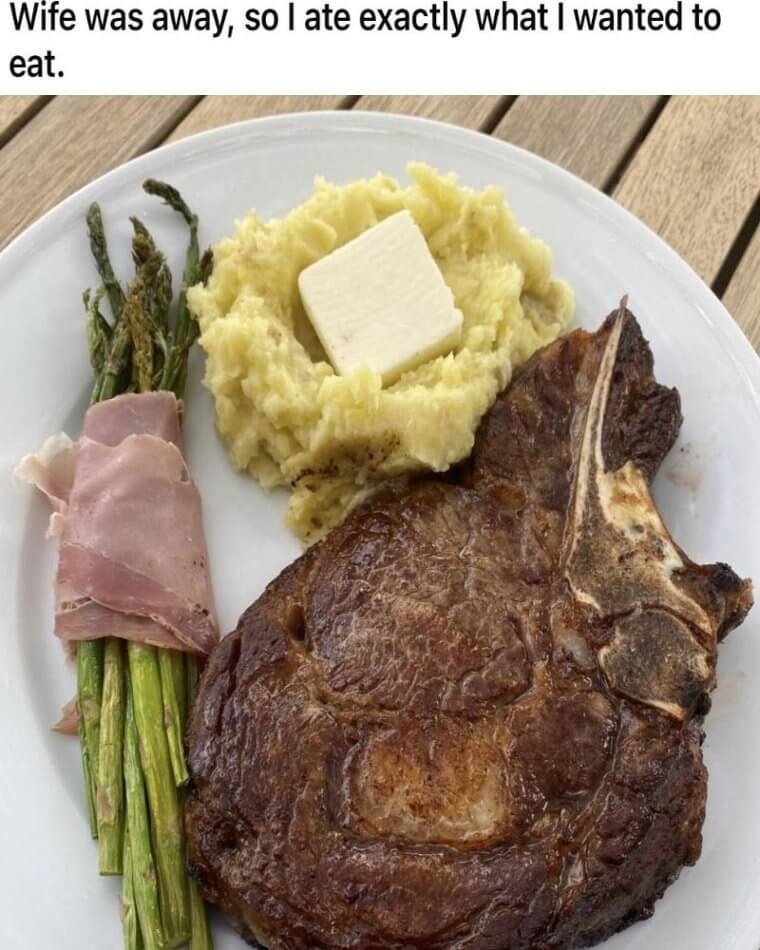 This meal is basically a recipe for a heart attack, and since his wife isn't around, it might be best if he would eat this when she comes back, just in case.
A Special Mechanic
This car mechanic just wanted to be funny, so he wrote up this list of car issues and named them based on their sounds. There's no way to tell if he actually made this just for the girls that come into the shop, but it might actually be helpful for everyone. It's a comedic creation with a side of offensiveness for people who actually don't know much about cart things.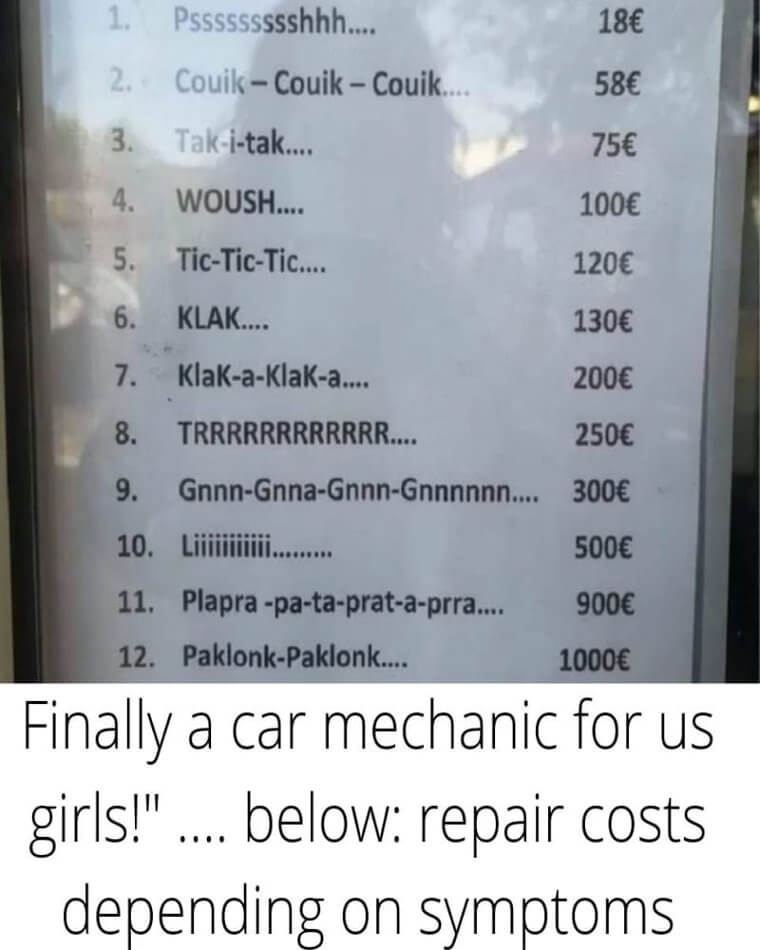 There's no denying that there are tons of women out there who absolutely know nothing about cars or mechanics. Yet, there are also lots of men who feel the same way.
We Have to Admit, This One's Creative
Some people think too deeply about the simpler things in life and end up saying statements such as this one. It was probably best that this person kept this explanation to themselves, but they didn't, and now it ended up on the internet, where the whole world can be as confused as the person who listened to this. To the rest of us, a spork is simply a handy utensil.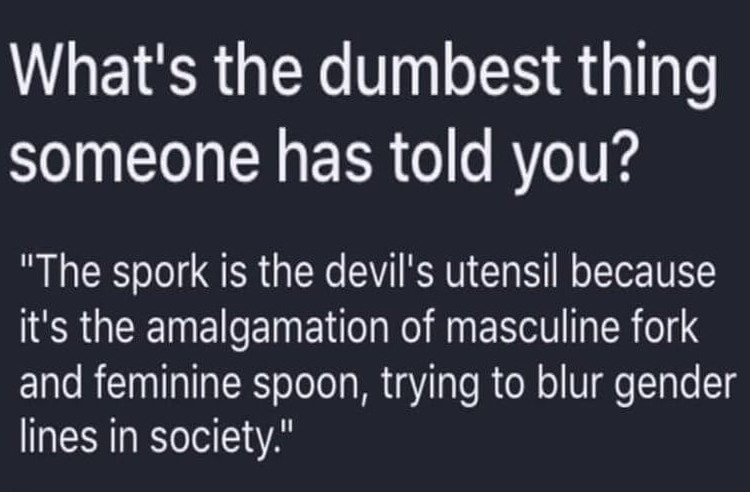 There are all kinds of ways to divide men and women, but somehow using a spork as an example is strange. This person might have some strange things going on in their mind.
Mansplaining at Its Worst
Get ready for this one: "I once had a man mansplain to me my own name. My name is Niamh; it's Irish. So I met this guy, he had only ever interacted with me on WhatsApp, and so he said, 'Oh, you must be Ny-am.' And I said, 'Oh no, it's Niamh, it's pronounced like this, it's the Irish language.' And he goes, 'No, it should be 'Ny-am.' And I was like, 'No, it's my name. It's a different language.' And he was like, 'But there's an 'M' in it. It should be Ny-am.' And he just kept going and going as if I needed to get through my tiny woman brain that I was pronouncing my own name wrong for 22 years of my life. He wasn't an Irish speaker or a native English speaker; he was Greek."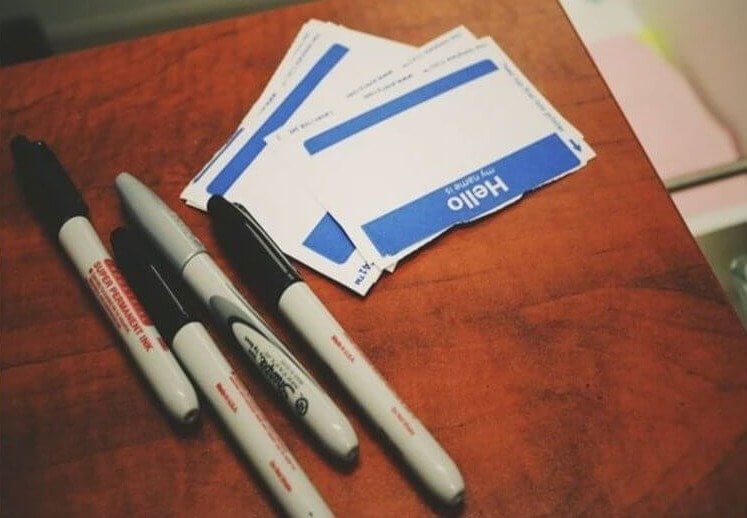 This guy felt the need to tell this woman the right way to pronounce her name. It's almost as if he thinks that she knows nothing about the name she was born with.
When Geography Is Hard
Listen, some people are simply geographically challenged, and we are certainly not here to judge. Sometimes, lefts and rights can be hard, but this mistake was kind of an unusual one. Sometimes, the most regular conversations can turn into super awkward encounters that will leave your head shaking. This person was speaking about their travels to a customer at their store when he told her that he had recently visited Copenhagen. Things got confusing after that.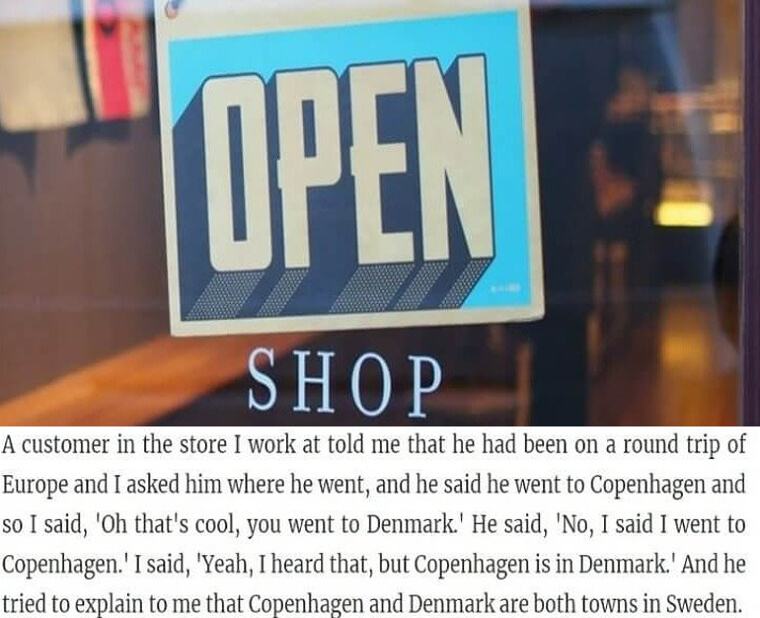 Just to make things extra clear for you, Copenhagen is in Denmark, and both Denmark and Copenhagen are not towns that exist in Sweden, at least, not that we know of.
Stop the Underestimating
This woman is a little league coach, and another male coach told her that she shouldn't be in that position since she's not a guy. The comment seriously annoyed her, but regardless, her team went on to win the division competition that year. Most guys, especially those who watch professional sports, know that women are super capable of leading sports teams to victory. It's basically a commonly known and logical fact.
Another great way to drive a woman crazy is to simply underestimate her, which is what happened to this woman, and it bothered her enough to share it online.